Opening a restaurant or other catering establishment takes a lot of work. When it comes to the kitchen, it may seem like a straightforward process, but it's actually quite a challenge to arrange all your commercial kitchen equipment in a way that makes your business efficient and up to code. To make the process a breeze, simply use our professional catering consulting and kitchen design services at INEO.
Our certified catering consultants can put together the perfect plan for your kitchen based on the space you have available, the menu you have in mind and the budget you need to stick to. With the help of our expert consultants, your kitchen will be well on its way to turning out delicious dishes that keep up with the demands of your growing business.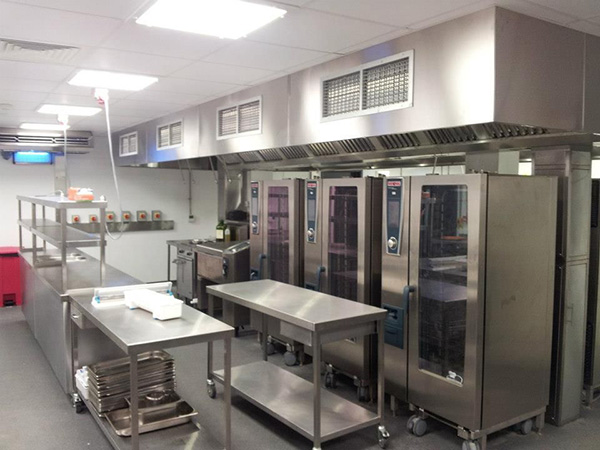 So, how do our restaurant and commercial kitchen design services work? Once you get in touch with INEO's projects division, we'll pair you up with a catering consultant. You'll discuss your unique needs, including space, menu and budget. From there, the consultant will come up with a kitchen design that optimizes available floor space, operational work flows and energy efficiency. This plan will include cost-effective equipment that's suited to your needs along with full electrical, plumbing and kitchen ventilation plans, enabling you to get accurate information and competitive quotes from contractors.
Our design team brainstorms to solve any challenges in an efficient, cost-effective and profit-boosting manner. Whether it's coming up with alternatives to gutting out walls or finding ways to utilize existing electric, plumbing and drain lines, we're dedicated to making sure your kitchen can be completed on your budget and within a shorter time frame. From restaurants and hotels to catering halls and institutional clients, we've worked with a wide range of kitchen and business needs, so we're confidence we can handle any challenges your project may present.

Our service includes:
◉Consultation & menu review
◉Preliminary design
◉Value engineering
◉Auto CAD - design plan
◉Equipment plumbing plan
◉Equipment electric plan
◉Equipment ventilation plan
◉Hood ventilation plan
◉Equipment specification book
◉Assistance with seating and table setting selection
◉Rebate towards equipment
◉Equipment low price guarantee
Keywords: kitchen equipment
Originally published 12 Nov 2022, updated 12 Nov 2022.