Guangdong GFD Commercial Technology Co., Ltd was formerly known as Guangzhou INEO Kitchen Equipment Co.,Ltd ,located in Foshan, Guangdong, the South of China, has two major brands, INEO and GFD. INEO began in 2008 and has been developed for 14 years. We have become one of the largest suppliers of commercial kitchen equipment in China.
Our products have been exported to 148 countries and have successfully completed more than 2,500 projects, such as world-renowned hotel chains such as Sheraton, Hilton, Crown Plaza, etc., as well as some international organizations and well-known enterprises, such as the United Nations Peacekeeping Force, the Bangladesh Air Force, Mobil Petroleum, Sinopec, etc., which are all our cooperation partners. In addition to North America and Europe, Southeast Asia and the Middle East, developing countries such as Africa also recognize our products very high.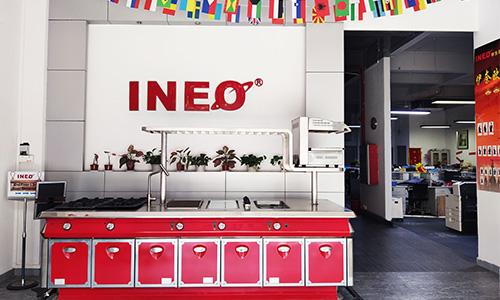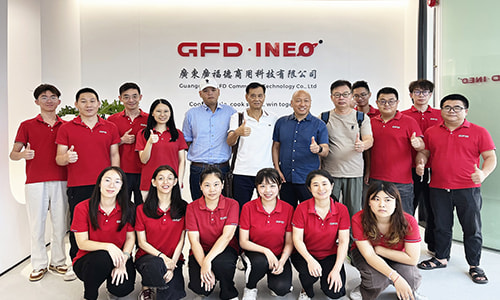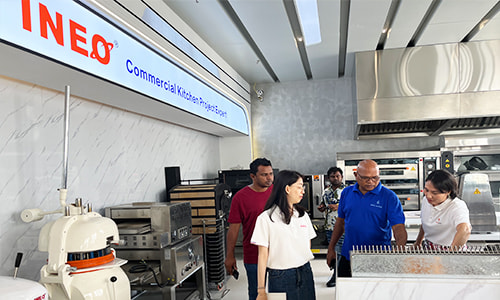 Our factory mainly focus on cooking equipment, refrigerated equipment and stainless steel products, have more than 220 workers and staffs, including R&D department, Quality Control Department, Production Department, Sales engineer team (including design, procurement, quality inspection, logistics, installation, commissioning, after-sales, etc.)
There are total 12 production lines in our factories, which are strictly in accordance with the control requirements of the ISO9001 quality management system. From the incoming raw materials to the outgoing finished products, we have professional quality inspectors responsible for their own process and last process re-check.
All equipment will be operated for 48 hours, as well as anti-leakage, air leakage, water leakage, environmental simulation, high pressure and high temperature resistance test.
Most of the products are exported overseas, our quality inspectors are familiar with the export standards. Our products have CE, ETL, UL, + saber and other certification standards.
Our professional after-sales department is 7X24 online, they will help customers to solve the problem at the earliest time. INEO is a leading commercial kitchen equipment manufacturer brand in China with 15 years experience. Our company is very experienced in dealing with all equipment problems and offer 3-years quality guarantee.
Top 5 reasons to buy from INEO:
◉Trust Responsibility
In INEO, our business principle is: Trying to enlarge our customers benefit instead of only figuring out how much we can earn from our customers . Only if our customer gains money from the deal, then we can make money as well. In this way, we can do win-win or multi-win. We are always trying our best to offer the best service to our customers and they know that INEO is a responsible company, we do what we promise.
◉Only products of quality from INEO
Rome was not built in a day." As a responsible company,INEO has set a long term business target. Our success is based on our reliable products of quality. Every single equipment must be restrickly checked before registered into our warehouse.
◉Warranty
Breakdown possibly could happen no matter how solid the equipment is . All of our products come with 1 year warranty. Once the equipment you purchase in conformity with the warranty condition, we will supply spare parts for free and if it is out of validity period, we will still offer to our customer the spare parts at its cost price.
◉Projects capable
Any project order is warmly welcomed. We have a special team to help you to manage the whole procedure, including free consulting ,free CAD design and even installation if it is neccessary. We have made quite a few successful projects worldwide.
◉Years professional exporting experience
In INEO,we have a special professional team to arrange the container loading and shipment for you. As full of experience, they can recommend the desirable shipping company to you since they know the best way to save money and time.