The laundry room daily washing and processing of cloths mainly includes guest room cloths, restaurant cloths, sauna cloths, staff uniforms, conference room table and chair cloths, curtains, guest's washing items, etc. Hotel laundry construction should be reasonably constructed to the standard of modernization, which is mainly reflected in several aspects such as appearance of laundry equipment, noise, technical content, durable materials, simple operation, low operation cost and small maintenance rate.
The laundry equipmentlayout design should make full use of the existing space layout, according to the requirements of the production process, fully consider the shortest fabric transportation distance and the convenience and cost saving of water, electricity, steam, drainage and other connections, as well as the noise and vibration generated by the operation of the equipment will not produce excessive impact, etc., for laundry equipment in the layout and installation.
Functions of laundry room area
Production Area: inspection and inspection area, washing area, drying area, ironing area, washing, drying, ironing and ironing as a whole dry cleaning production area.
Auxiliary Area: receiving and dispatching room, fabric room, material room, boiler room, air compressor room; power distribution and lighting area. Sewing area.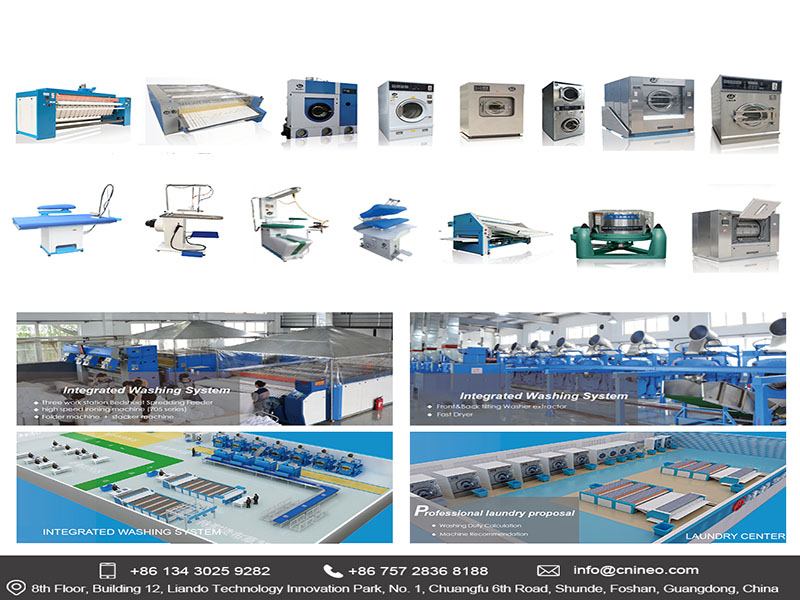 Step 1-Washing Volume Calculation
A known washing volume parameters for example a hotel quipped with 260 rooms(assuming they are all standard rooms).The guest room department open room rate assumes 100%, each room should be replaced and wash the weight(kg) of cloth and grass every day as follows,
Bed sheet 2.4
Quilt cover 3.2
Pillowcase 0.2
Bath towel 1.4
Face towel 0.4
Floor towel 0.3
Square towel 0.1
Cloth weight per room 8
If room opening rate 100%,total weight of 260 rooms 260*8*100%=2080kg.
Step 2-Dry Cleaning Volume Calculation
According to the data provided by hotel project, the dry cleaning capacity is as follows.Dry cleaning capacity of guest clothes: 260 rooms, 2 persons per room, 1.5 kg/person, 100% housing rate, 15% of guests need dry cleaning.Then the daily washing volume: 260*2*1.5 kg*10%*90%=117KG/day Total dry cleaning volume is: 117KG/day.
Step 3-Per Hour Cleaning Volume Calculation
① Water washing: Automatic washing and stripping machine every time to complete a washing program takes about 50 minutes (including the time to change the auxiliary machine, large equipment, change the auxiliary machine time longer), the daily wet washing volume of 2080KG, according to 8 hours of actual operation of the equipment working system.The number of washings to be completed per day is: 8 hours*60 minutes/50 minutes/time = 9.6 times.The washing volume to be completed each time is: 2080KG/9.6 times=216 KG/time.
② Drying: Automatic dryer takes about the same amount of time as washing and stripping machines to complete each drying procedure, according to the ratio of 1:1 to configure the dryer.
③ Dry cleaning: Automatic dry cleaning machine each time to complete a washing program takes about 50 minutes, the daily dry cleaning volume of 81 KG, according to the 8-hour working system, then the daily dry cleaning volume per hour: The number of washes to be completed per day is: 8 hours*60 minutes/50 minutes/time = 9.6 times.Each time should complete the amount of washing: 117*9.6 times = 12KG/time
Step 4-Laundry Equipment Configuration From INEO
| Equipment Name | Model | Quantity (set) |
| --- | --- | --- |
| Automatic washing and stripping machine | XGQ-100F | 2 |
| Automatic washing and stripping machine | XGQ-20F | 1 |
| Automatic dryer | HGQ-100 | 2 |
| 3-M Double-roller ironing machine | YP2 8030 | 1 |
| Full-automatic dry cleaning machine | GXQ-12 | 1 |
| Auto Universal Clamp Machine | GMJ-125 | 1 |
| Portrait machine | ZRT-1.0 | 1 |
| Multi-functional ironing table | DN-A | 1 |
| Stain removal table | QZ-6 | 1 |
| Manual ironing table | XTT-A | 1 |
| Air compressor | 5P | 1 |
| Garment conveying line | SS-308 | 1 |
We calculate the required proportion of equipment for the laundry room, and then make the corresponding CAD design and layout for the whole project at a glance.The photos of the laundry room we configured for the hotel project and the resort project are as follows: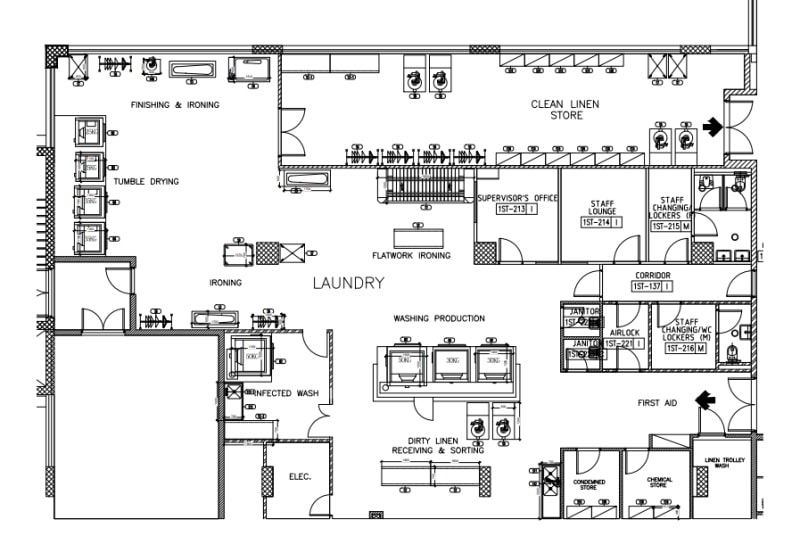 If you need brand-name commercial laundry equipment, we would be more than happy to help you find what you need. Here at INEO, we carry popular brand-name machines around the world.From after-sale service and maintenance such as parts and supplies, we are your partner for commercial laundry and cleaning equipment, and washing system management.Contract us now and we can help to set up with all your commercial laundry need.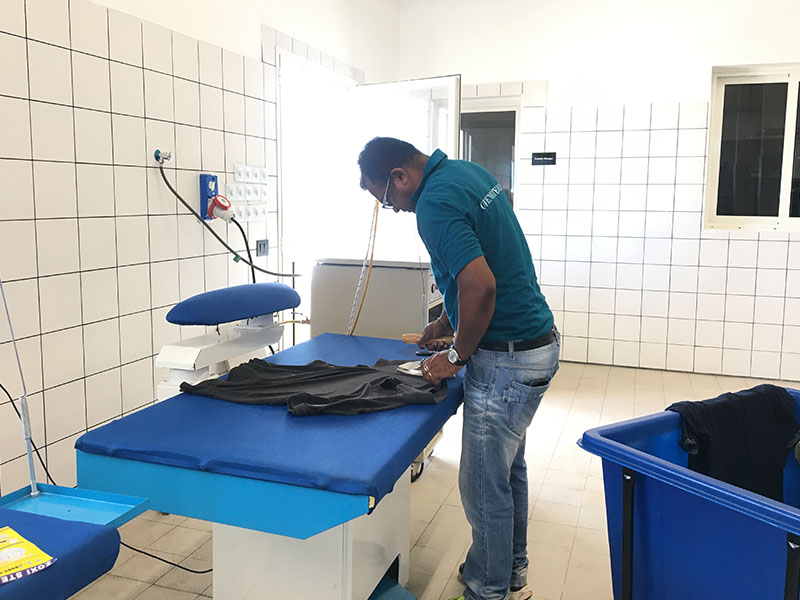 Keywords: Commercial Laundry Equipment
Originally published 28 Aug 2023, updated 28 Aug 2023.