Restaurant exhibitions are back and we couldn't be more excited.
We're still in one of the most challenging times for restaurants in recent history — and the only way out is together. That's why it's more important than ever to connect with your colleagues in the restaurant industry.
If you're thinking about attending a restaurant conference this year, we've compiled our list of favorites that give you the biggest return on investment (and can provide solutions to the thousands of questions, fears and hardships you've faced since the last time you attended one). You may even see us at a few!
Why You Should Attend a Restaurant exhibition
Let's face it: running a restaurant can be a very lonely business. It's the great irony of being a restaurateur — you're in the business of serving others, but you rarely get help yourself. Restaurant exhibitions and conferences give you a chance to connect with other restaurant owners who may be struggling with the same challenges you're going through — or to learn from folks have been there, done that.
Restaurant exhibitions give you the opportunity to:
◉Take a break! This is a tough biz — and that's true whether you're running your own restaurant, playing the franchise game or operating an enterprise brand. The restaurant world never sleeps and it can be hard to get away. But it's important to give yourself (or your team) a break from the daily grind. Restaurant exhibitions and conferences are the perfect opportunity to take a breather, bond with your colleagues and get inspired.
◉Learn something. So many people and ideas in one place means there's bound to be something you haven't tried before, whether that's a new culinary technique, business best practice, or one-stop solution. So come with an open mind and be ready to take what you learn and apply it to your business when you come home.
◉Meet new people. The best part about restaurant exhibitions is the people. These conferences draw diverse crowds who hail from all different places and walks of life — but who have a lot of common ground when it comes to their passions and professions. And they tend to be friendly folks (hey, it is hospitality, after all). exhibitions foster an environment that's ripe for connection, collaboration and a lot of shared learning.
What to Expect at a Restaurant exhibition
Every exhibition is a little different, but you can expect a mix of structured content (think: speakers, seminars, workshops) and downtime (perusing the exhibition hall, networking events, etc.). Often, keynote speakers kick off and end each day with high-level advice or inspiration. Throughout the event, you'll probably have the opportunity to attend more focused sessions around industry trends or best practices; product demonstrations for specific items like appliances or software; and kitchen or food demos that show off suppliers or well-known chefs.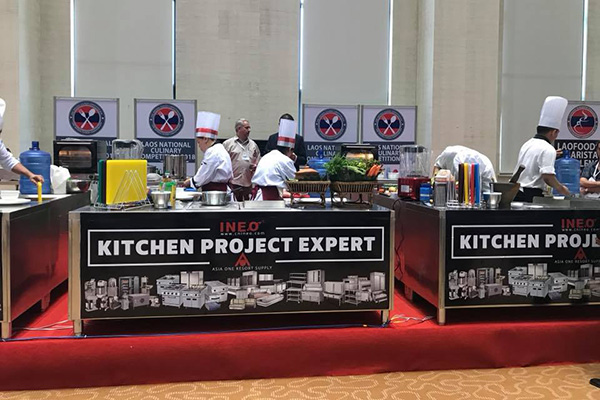 Formal networking opportunities like a happy hour or luncheon are often built into the event agenda. It's also common for vendors or potential investors or partners to set up one-on-one meetings with restaurant execs and operators — either by reaching out ahead of time, or scheduling something on the spot at the event. But really: great networking can happen when you're simply waiting in line for the elevators or grabbing a coffee. Everyone is there for the same reasons you are — to learn and make connections — so don't hesitate to strike up conversations with fellow attendees.
Depending on the theme of the show, you may find more sessions around running the front of house, back of house, or the business overall. No matter what, though, you'll come away from a exhibition having learned, seen, or met someone new.
With COVID-19 regulations, some shows have gone virtual or hybrid, streaming sessions online and moving networking opportunities to chat or through video calls. While virtual events offer a lot more accessibility — no need to fly halfway across the country! — you should still try to give them your full attention. The more you can immerse yourself in the event, the more value you'll get out of it.
Keywords: kitchen equipment
Originally published 10 Nov 2022, updated 10 Nov 2022.